Career Education for Future Design
The first step in career development is analyzing of the self and society through study in various areas of the university and future career design.
Career Education
A career is a life or lifestyle built on professional experiences. Career education is the area that leads individuals to an understanding of how they want to live and work and to help them design their personal future career through study of their self and society.
Program Characteristics
Systemized education program in two years
In "Introduction to Career Design I, II" taken in the first year, students learn the necessity of career design and study about society and the working environment. In "Career Design Theory" taken in the second year, they make assumptions for their future and conduct research into specific professional and working environments.
Cultivation of self-initiative through the use of a "Career Design Notebook"
The university has created its own original Career Design Notebook, which is distributed to new students. This makes it easier for students to take the first step in career design through writing down their ideas about their future in the notebook.
Career Design Notebook Envisioning a future through thinking and writing
The Career Design Notebook consists of two parts: Expository texts with certain themes, such as the importance of learning in university, meaning of working, and abilities required in society; and a notebook for students to fill in their own ideas. This notebook helps students discover many things and build a better vision of their future.
Examples
"What I want to do in university" "Way of work that suits my lifestyle" "Establishment of my self-image" "Systems and security that protects me" "Interviews with professionals" "Income and expenditure" "Looking back on my life so far" "Career plan design"
Special lectures by guest teachers from different fields
The university invites guest teachers from various companies and organizations to provide special lectures. Students are able to envision their future and learn about actual society through these lectures, as well as practical classes that conduct communication workshops and provide workplace visits.
Curriculum
First Year
Thinking about the necessity for life design and an understanding of society and the professional world
First Semester
Students study about the necessity for career design and create their career plan during their university years. This is achieved through lectures and workshops, such as Communication Workshop, Campus Life Q & A, and Interviews with Professionals.
Second Semester
Students learn about society and acquire the basic abilities required in society, through programs, such as Prediction of Life-Span Income, Work-Life Balance, and Presentation Workshop.
Second Year
Further understanding of the professional world to find a future direction
Students acquire the abilities necessary for communication, planning and taking action, through group workshops, such as Profession Studies, Workplace Visits, and Teamwork Improvement.
Third Year
Workplace experience through internship programs
Students prepare to join an internship program through collaboration with faculty teachers.
Subjects
First Year First Semester
First Year Second Semester
Second Year
Introduction to Career Design I
Elective: Faculties of Economics, Biotechnology, Marine Bioscience, and Nursing & Social Welfare Sciences
Introduction to Career Design II
Elective: Faculties of Economics, Biotechnology, Marine Bioscience, and Nursing & Social Welfare Sciences
Career Design Theory
Elective: Faculties of Economics, Biotechnology, Marine Bioscience, and Nursing & Social Welfare Sciences
Career Center Job Hunting Support
Job hunting support to help realize future dreams
The Career Center provides opportunities for self-analysis, future direction research, work experience and guidance seminars, in addition to advice from center staff. Detailed and useful information is offered, essential to those students seeking future opportunities and support for their job-hunting activities.
Consultation System with Specialized Staff
One career guidance advisor and two career information counselors (one on the Fukui Campus and one on the Obama campus) provide consultations on request.
Career guidance advisor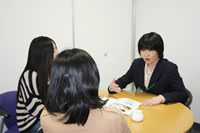 The advisor provides consultations on various issues regarding job-hunting, and assistance in solving problems and concerns.
For example,
How to conduct job hunting
How to conduct self-analysis
How to fill in job application forms
How to deal with interviews
Importance of gaining qualifications
Career information counselors
Provide detailed information on companies, in accordance with students' inquiries.
Information on companies in the industry in which the student is interested
Information on the work environment within companies
Information on internship programs and OB visits of companies
Support after graduation
Providing job-hunting support after graduation, including employment information and personal consultations.
Job hunting support
Third Year
Self-analysis and research into future direction
Job hunting orientation
Students develop an understanding of the current situation surrounding different industries and corporations, and learn about career development and job hunting.
Aptitude test
Aptitude tests are conducted from an early stage to motivate students to gain self-awareness and choose the right profession.
Guidance for parents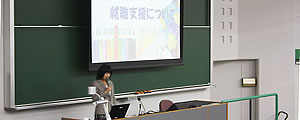 Guidance seminars on job hunting are offered to parents during supporters' event for the Shirakashi Festival every year. This includes the topics, such as trends in job hunting, self-analysis, and human resources that corporations demand.
Job hunting guidance seminars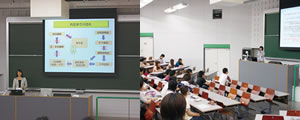 Guidance seminars are conducted for students by inviting job-hunting support specialists, covering topics, such as corporate research and self-analysis, in order to provide various means of support. These seminars are regularly organized from the third year to support job-hunting activities comprehensively through systemized and timely programs.
Mock interviews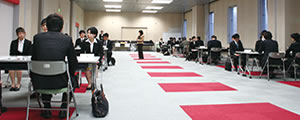 University teachers act as interviewers to offer students the opportunity to practice group or individual job interviews on campus.
Internship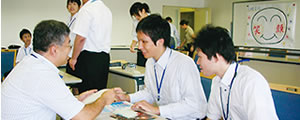 Internship programs are offered through collaborations with companies and organizations in the prefecture, and are accepted for credit in the Faculties of Economics, Biotechnology and Marine Bioscience. Comprehensive support is given from preparation to post program.
Fourth Year
Applications, interviews, examinations and job offers
Corporate Meetings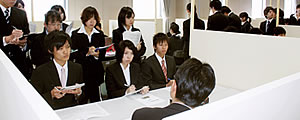 The Career Center invites personnel officers from approximately 150 companies from both inside and outside the prefecture, and provides opportunities for students to meet directly with company representatives. A number of orientation sessions are conducted on campus, including industry orientations offered by local groups, and company orientations.
Support for civil servants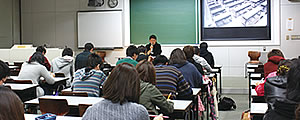 A guidance seminar on civil service examinations is offered to those students who aim at becoming civil servants. There are also debriefing sessions by those who have actually taken the exam and a section that explains about government offices at a joint meeting.