International Academic Exchange
Cultivating globally-minded individuals through a variety of programs for overseas study and academic exchange
The university has formed partnerships with ten universities in different countries, including China, Korea, Taiwan, Vietnam, Mongolia and Peru. It sends and accepts exchange students and conducts friendship exchanges and research exchanges among teachers.
Overseas Study Programs
Long-Term Overseas Study Programs
Quality experiences backed up by a variety of support systems
The university has developed a number of foreign exchange programs, based on international academic exchange agreements, with overseas universities, including Zhejiang University of Finance and Economics (China), Jilin University (China), Gangneung-Wonju National University (Korea), Chonnam National University (Korea), National Kaohsiung First University of Science and Technology (Taiwan), National Ilan University (Taiwan), University of Social Sciences and Humanities of Ho Chi Minh City (Vietnam), and Foreign Trade University (Vietnam). In this program, students live and study overseas in the long term, learn foreign language, and enhance their knowledge in their specialized area.
Steps toward Long-Term Overseas Study
Applications are accepted every six months.
April (October) Submission of application
May (November) Selection through deliberation and approval
June (December) Final selection
July to August (January) to (February) Administration procedures
September (March) Departure for overseas study
Support System for Overseas Study
Approved for credit in Fukui Prefectural University
As part of the credit transfer system, the credits acquired at partner universities while the student is enrolled in FPU are transferred and recognized as credits of our university.
Grants for FPU overseas study programs
Students who take part in a university overseas study program are eligible to receive grants to cover part of the expense of travel and accommodation fees.
Free tuition for partner universities
Fees for examinations, enrollments, education and auditing at partner universities are waived.
Free access to facilities of partner universities
Exchange students can make use of facilities, such as the library, in partner universities in the same way as other students of that university.
Short-Term Overseas Study Programs
Choice of programs according to students' personal study style
The university provides short-time overseas study programs, which are easy for students to participate in. Students can choose from three language program areas: English, Chinese and Korean.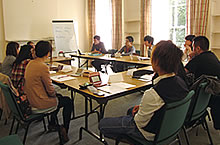 LEAP (Learning English Abroad Program)
This is a 4-week intensive English language programs in affiliated institutions overseas during the summer vacation.
[Students can apply for grants for the FPU overseas study programs.]

LCAP (Learning Chinese Abroad Program)
3-week intensive Chinese language program for students of the second year or higher in a university in Taiwan during the summer vacation. Students can acquire university credits in line with their level of performance in the program.
[Students can apply for grants for the FPU overseas study programs.]
Short-term training program in an English-speaking country in Asia (Singapore)
2-week program in Singapore for first year students, allowing them to take part in language classes, company visits, volunteer programs and exchange activities with local students during the summer vacation. This program aims at providing an opportunity for students to take the first step as world citizens, focusing on overseas Asian countries that have shown rapid advancement.
Summer and Winter Schools at Chonnam National University in Korea
3-week Japan-Korea exchange program conducted by Chonnam National University during the summer and spring vacations for students from their partner schools in Japan. Students learn the Korean language in the morning and join cultural experience events with students of Chonnam University in the afternoon.
[Students can apply for grants for the FPU overseas study programs and grants provided by Chonnam University.]
Partner Universities
Academy network expanding to the world
University of Social Sciences and Humanities (Ho Chi Minh City, Vietnam)

University with a number of departments and 20,000 students
The largest university of social sciences and humanities in the southern region of Vietnam. Established in 1957, it puts emphasis on international affiliations and is active in sending and receiving exchange students.
Foreign Trade University (Hanoi, Vietnam)

A number of alumni are diplomats, politicians and leaders in various fields
Established in 1960 as a training college for diplomats and traders, it is one of the most popular and most difficult universities to enter.
Zhejiang University of Finance and Economics (Hangzhou, Zhejiang, China)
This university plays an important role in the development of human resources in the financial and economic areas of Zhejiang Province.
Jilin University (Changchun, Jilin, China)
One of the largest universities in China, and designated as a key national university. A number of its alumni hold important positions, such as politicians.
Gangneung-Wonju National University (Gangneung, Gangwon-do, Korea)
Recognized as one of the top local universities in the country, it has produced key individuals in various fields throughout Korea.
Chonnam National University (Gwangyeok, Gwangju, Korea)
A national university that can boast some of the best research capabilities in Korea. It has produced a number of outstanding individuals that have served as the driving force behind growth in Korea.
Mongolian State University of Agriculture (Ulan Bator, Mongolia)
The only national agricultural university in Mongolia, located approximately 3 km south of the Palace of Culture in the city center.
National Kaohsiung First University of Science and Technology (Kaohsiung, Taiwan)
A national technical university, and one of the largest in south Taiwan. It aims at providing an all-round education that emphasizes both theory and practice.
National Ilan University (Ilan, Taiwan)
One of the leading national universities in northeast Taiwan. It covers a wide range of areas, from personnel management to electrical information.
La Molina National Agrarian University (Lima, Peru)
This institution plays an important role in providing advice and instruction to the agricultural sector in Peru.
English conversation and multi-cultural exchange in a relaxing atmosphere
Fukui Campus "World Café"
Students can enjoy free conversation with a foreign instructor, watch overseas movies, study for TOEIC using computers, and collect information on learning English and studying overseas. Student staff organize events for students both inside and outside the university on a regular basis, such as Halloween and Christmas.
| | |
| --- | --- |
| Location | 2F, Lecture Building |
| Operational hours | 11:00 - 17:00, Mondays to Fridays |
| Staff | 1 full-time instructor, 23 student staff |
Obama Campus "Ocean's X"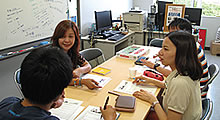 Ocean's X opened following on from the popularity of the World Café on the Fukui Campus. Students can enjoy discussion and games in English with the instructor here, and the students themselves decide on topics and recruit new members to create an active atmosphere.
| | |
| --- | --- |
| Location | Education GP Promotion Room (1F Department Building), or Tsunagari Sunset Sharing Room |
| Operational hours | 16:30 - 18:30 on Tuesdays, Wednesdays and Fridays |
| Staff | 1 instructor |